Mr. Enclosure Sunrooms, LLC
Serving Macomb County, Oakland County, St. Clair County, Wayne County and all of Southeast Michigan!
Your new Sunroom should enhance your home's character. That's why we custom design and build to your specifications. We take great care to blend your Sunroom with your home, creating the finest Sunrooms in the industry. How? By handling all aspects of the project from concept to completion, including plans, permits, manufacturing, construction, electrical and heating/cooling packages, through final inspection. Because we manufacture our own products, you enjoy factory direct pricing without the middleman cost and markup. When you compare our Sunrooms to a Sunroom of equal quality, we are very competitively priced and more often than not, less expensive than our competition. Not only will you add a relaxing living area to your home, you will also enjoy the beauty of the outdoors with indoor comfort. In fact, many of our customers tell us their Mr. Enclosure Sunroom has become the favorite room in the house! There is a world of nature waiting just beyond your doorstep. It's time to invite it in!
3 and 4 Season Sunrooms
Whether you're looking to expand your living space with our All Season Sunroom, or to enjoy the Michigan Spring through Fall seasons out of the elements and annoying insects in our 3 Season Sunroom, Mr. Enclosure can custom design and build a space for every home and budget. Compare our quality with our competitors, and see why Mr. Enclosure is your best value! Mr. Enclosure's is the leader in designing All Season Sunrooms for Michigan's changing seasons. All of our year 'round sunrooms include
Window and door systems that comply with the Energy Star guidelines
Multi Coat High Performance Glass
Frames and sashes that are all vinyl, not vinyl clad aluminum or thermally broken aluminum
Wall thickness of 5″
All cavities are fully insulated
1/4″ Foam Gasketing System at all connection points which eliminates air leaks and heat loss
Warm Edge Technology glass spacers. Eliminates thermal transfer from outside to inside your sunroom
Exclusive Double Pin  Latch System which ensures security
Powder Coated Stainless Steel Fasteners to assure strength and prevent oxidation
Largest Structural Corner Post in the industry. No thermal break is needed since the outside does not come in contact with the inside
Call us today at (586) 939-4700 for your FREE Sunroom Design Consultation and Estimate, and let us show you what sets Mr. Enclosure Sunrooms, LLC apart from the rest!
Sunroom Styles
Studio Style Sunrooms – Affordable designs to fit your lifestyle!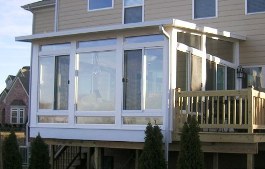 The Studio style is typically your most affordable Sunroom option. The classic single slope roof can complement the architectural features of almost any home. Choose from a wide variety of features like glass transoms and side trapezoids for maximum light, and skylights for even more light.
click for our Studio Sunroom Gallery
Gable Style Sunrooms – Outstanding Light and Views!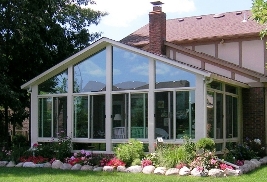 The Gable Style Sunroom has a cathedral style roof that provides maximum visibility and comfort. This distinctive roof can be shingled to match your home, while providing a vaulted ceiling and contemporary appearance on the interior to provide wide open views. Finish the ceiling with drywall, or stained bead board for that custom finished look. Our full electrical package provides plenty of lights and outlets for maximum flexibility.
Split Style Sunrooms – Contemporary !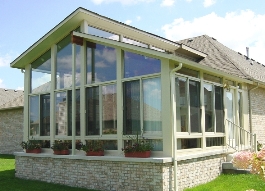 The Split-Level style sunroom is a unique blend of a bi-level roof with a modern and contemporary look that will leave your friends, family, and neighbors green with envy. The dramatic roof lines and high ceilings will create a spacious living area with breathtaking views of the outdoors.
click for our Split Style Gallery
Under Existing – Have a Patio Roof? Turn it into a Comfortable Entertaining Area!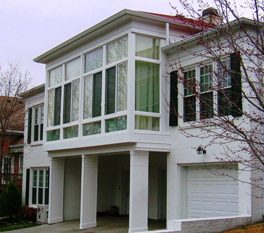 Already have a patio area with a roof? Let Mr. Enclosure enclose it with  any of our wall systems and turn that open space into a comfortable, dry, bug free 3 or 4 Season enclosed relaxation and entertainment area.
see our Under Existing Enclosure Gallery
Mr. Enclosure Sunrooms, LLC manufactures and installs 3 Season & All Season Sunrooms in Southeast Michigan
Serving Macomb County, Oakland County, St. Clair County, Washtenaw County, Monroe County, and all of Southeast Michigan